We started using these garden tools in our own garden and allotment in 2001 and immediately recognised their unique quality. Hand-made from natural materials and practical as well as beautiful, they also make unusual gardening gifts.
They are hand-made in the EU by artisan coppersmiths for PKS Bronze. The tool heads are made of solid bronze and the handles are from responsibly-sourced European hardwoods – ash, beech and lime. The larger tools have bare wood shafts, while the handles of the small tools have been oiled.
The tool heads are made of solid bronze (copper with a little bit of tin). Other parts are pure copper, brass and other copper alloys.
They don't rust
They have sharp edges
They are hardwearing and will last for years
The metal is known to deter slugs and snails
They slice into the soil and come out clean
Although they may look like works of art, these are hardworking tools, designed for strength not looks. So the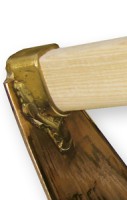 brazing is less smooth than for a sculpture, for example, and there may be marks on the blade which will not detract from the working of the tool.
We also supply our own range of English-made cotton canvas garden gear, designed with our tools in mind.
---
Our Service

We have some stockists around the UK. Otherwise, you can place an order via our secure online shop.
Delivery is mostly free for the UK mainland. We charge extra for orders containing longer tools and to the remoter parts of the UK.
We aim to send out all orders within a week of receiving them (usually sooner). If there is a delay, we will let you know.
For urgent orders, we offer a courier delivery service.
Our guarantee. These are long-lasting tools, which should outlast most of us. However, if for any reason you are unhappy with your tool, we offer a no-quibble 25-year guarantee. We will refund or replace an unused tool. We will also repair a faulty tool (and will refund the UK return postage if it is less than a year old) or replace it if  it is beyond repair. Of course, this excludes normal wear and tear. The wooden handles and shafts are guaranteed for two years (and we supply replacement handles and shafts) For users outside the UK, we will also honour this guarantee but will ask for help with postage costs.
---
Our Policy

We aim to run our business along ethical guidelines causing as little disturbance to the planet as possible.

With this in mind…
The tools are not throwaway products. In fact they are guaranteed a lifetime.
Our packaging is compostable. We use cardboard, brown paper, paper tape and as little plastic as possible.
We bank with the Co-operative Bank.
Our telephone account is with the Phone Co-op.